In mid-June, the Senjković winery restaurant officially opens again on Brač. Chef Magdalena Senjković and her husband, winemaker Saša Senjković, have taken over the space of the former restaurant Tinel, tucked behind the village post office in Nerežišća. There, they offer walk-in seating for wine and small dishes, as well as a slow-food tasting menu by reservation.
The restaurant is a revival of the dining experience the couple offered for five years in the tiny nearby village of Dračevica. Croatians or visitors craving fine food and wine could hope to secure one of the 12 seats for a multicourse tasting-menu experience. But after the 2020 season the premises were no longer available–leaving friends and fans wondering where and when the restaurant might reopen.
Painted an unmissable tomato-fuchsia shade on the outside, the space is a soothing forest green inside, decorated with antique photos, large stone artifacts from the time of the Venetian Republic, and a tasteful collection of farming and winemaking objects. Outdoor seating for the tavern is in the front. The slow-food menu, once again for a maximum of 12 people, is served in the courtyard at the back.
Local Ingredients, Local Traditions
In the tavern, start with a cocktail from Saša's new vermouth, Bičikleta, made from rosé wine and 15 botanicals. Hot focaccia and addictive, savory seed crackers are served with two styles of olive oil. Both oils come from the same trees, but one is pressed within 24 hours of picking in the modern way; the other olives are soaked in seawater first, in the old way. The difference in flavor and texture is enlightening. It is just this kind of moment of discovery that sets Senjković apart.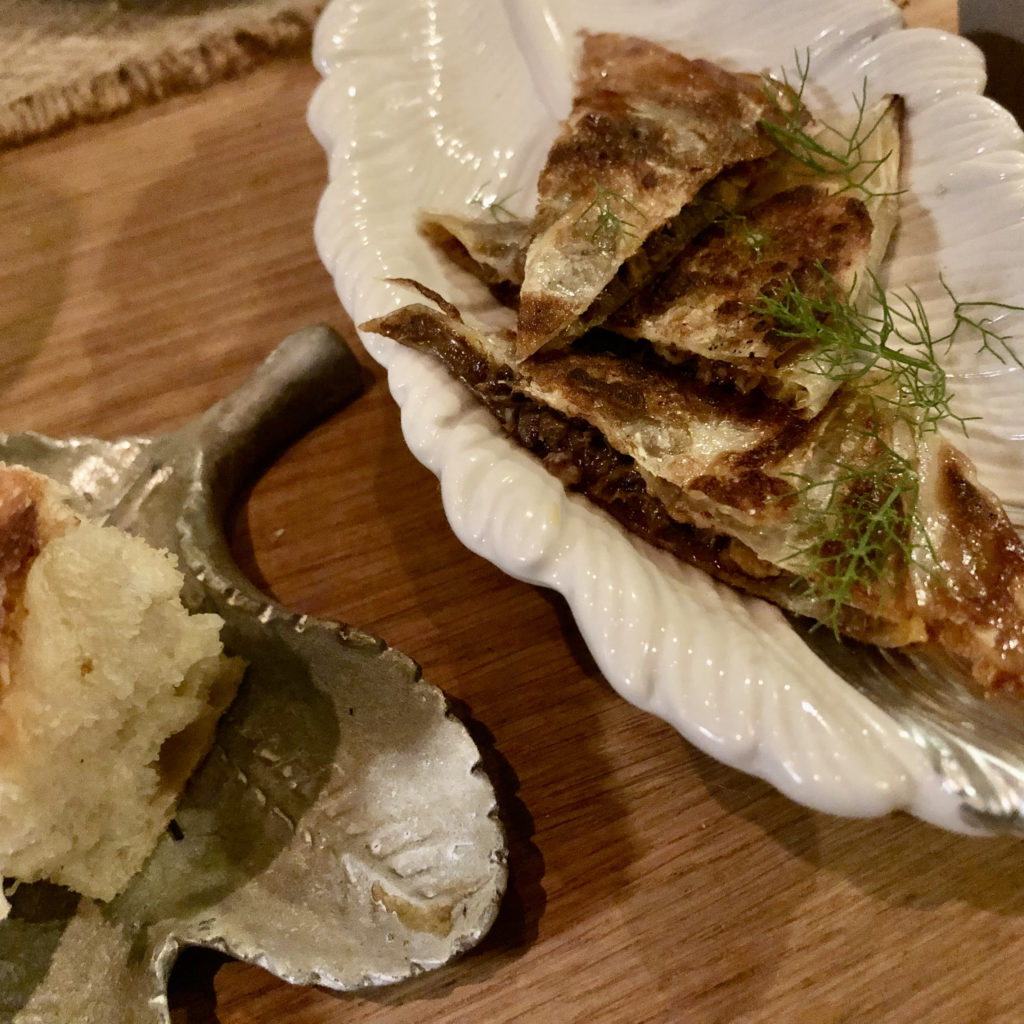 Squid ink profiteroles filled with prawn cream or sheep milk curd look ultramodern and taste like comfort food. Crudo of arbun (pandora, in the sea bream family) comes sprinkled with edible flowers. Slow-cooked lamb spiced with cinnamon is sandwiched in filo and cut into triangles, a sort of slow-food Brač quesadilla. End with a cheese plate or a light, summer dessert: biscotti (locally called pandoleti) or the delicate ribbons of fried dough known as frustule, kroštule, or a dozen other names, here made from just flour, water and grappa and dusted with confectioners' sugar.
The range of Senjković wines offers a pairing for every dish. The sparkling wine, made from the indigenous Kuč grape (aka Trbljan), balances freshness and lees. The rosé from Plavac Mali is the perfect cocktail sipper. One Pošip, made in stainless steel, leans toward Sauvignon Blanc in style. The other, given longer maceration and a year in Bosnian oak, will be rich and multilayered after a few years in bottle. Three styles of red cuvee result from fruit picked in three passes and given different oak and aging regimens.
The new restaurant is the perfect tasting room for Senjković wines. That they are poured alongside creative food made from local ingredients and drawing on local traditions makes this restaurant stand out from other food options on Brač. In Croatia as a whole, there are a select few winery restaurants of this caliber. Linger here to soak up the small-town rhythms and taste what the land has to offer, translated for you by a highly talented and hospitable chef and winemaker.
Details: Open during the season Tuesday through Saturday from 17:00.
Tapas range from about 8 to 15 euros, the slow-food menu of about 12 courses and tastes plus 8 wines costs 165 euros.
Reservations are available only for the slow-food table.
[Title photo: Staff/CCM]