This is the ninth in a series of 12 monthly articles following eight Croatian wineries through their year. Catch up on last month's activities here.
Much of the work done in the vineyards for the past ten months leads to this moment. The turning the soil—or not—the thinning and training of shoots, the treatments, grass cutting, leaf pulling, green harvesting, watching the sky and strategizing. All lead to the weeks in late August, September and early October when the various grape varieties are ripe and ready to be picked.
The quality of this fruit determines what will need to be done in the winery to transform it into wine. When winemakers say, "The wine is made in the vineyard," this is what they mean. And when winemakers and critics talk about whether 1997 or 2011 was a good vintage in a certain region, they are talking about the quality of the fruit—was the yield perfectly controlled to produce concentrated flavors; was there mildew or disease in the vineyard; was there a big storm right before harvest that swelled the grapes with water; or were they sunburned. They are talking about whether humans and nature reached the perfect compromise that growing season, in order to produce the best possible wine.
Antunović
"I would really like it to be like in the movies, but it's not," says Branimir Turk, about harvest. "I've got sunburn everywhere. It's a physical job and it's a dirty job," he continues, referring to sticky grape juice and dust. "But it can be fun, especially when you have good company. Most of the workers hang out in their free time and some of them are family, so it is a good atmosphere. But it is not an easy job, for sure."
By 9 September at Antunović, they have harvested only the Muscat Ottonel. In a day or two will be Zeleni Silvanac, then Chardonnay and Pinot Noir in a couple of weeks, and so on into early October. They may start each day at six or seven, depending on how hot it is. The pickers include four year-round workers, plus seasonal help from town. "Most of them come with their bicycles to the vineyard to work. It was 12 of us on Monday," Turk adds.
The biggest potential problem leading up to harvest is rain. "The problem isn't a small amount of rain, even during the harvest," says Turk. "The big problem is when it rains three or four days with higher temperatures. You get diseases everywhere." It's one of the factors that separates a great harvest from a lesser one. "You can only make sure to be ready for anything," he says.
As soon as the grapes arrive at the cellar, they are destemmed and crushed, then pumped into tanks. The Muscat Ottonel juice and skins macerated together for 12 hours, for additional flavor. Then the contents of the tank were pressed to separate the juice from the skins. The juice goes back into a tank for "settling," where solid particles left in the juice settle to the bottom or are collected by other means. Then, purer juice can be siphoned off for fermentation. For the Ottonel, cultured yeasts will be added and fermentation will take about two weeks. For other grape varieties, another option is to use indigenous yeast (yeast that comes in from the vineyard on the fruit).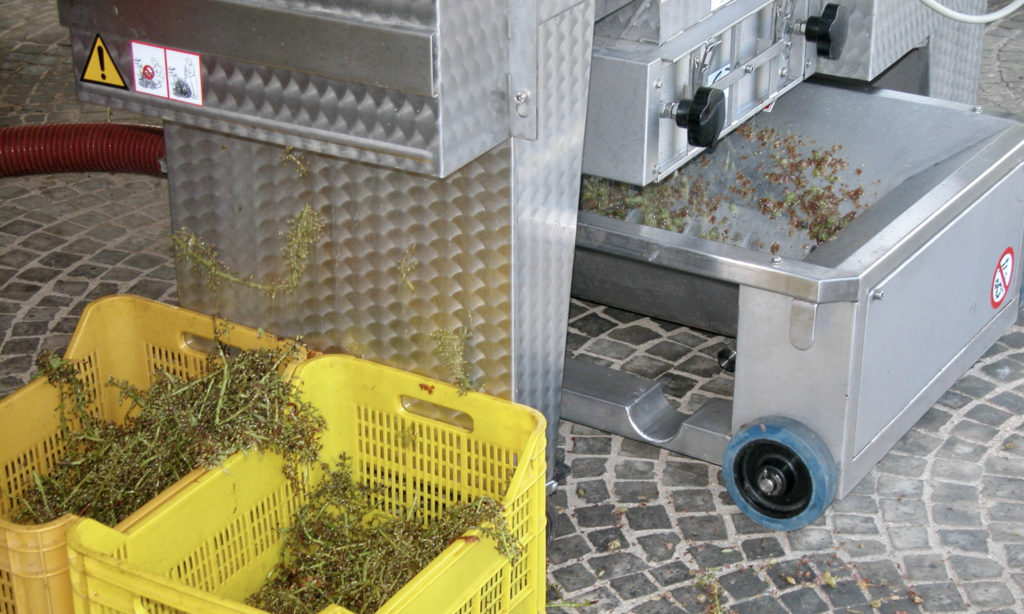 Asked about that winemaking goblin, sulfur dioxide, Turk says, "[With sulfur] you can make sure there aren't any microorganisms that could start something bad in the wine. And it also stops wine from oxidizing. All that polemic about sulfur—is it good, is it bad—I mean, it's not perfect, [but] we don't have any other substitute for it." Sulfur dioxide comes in powdered form and is generally added during crushing, to stop oxidation when the juice is first exposed to the air. It may be used again after fermentation, to control bacteria in tanks or barrels and avoid off flavors in the wine.
On the last day of harvest, says Turk, "when we are doing Cabernet Sauvignon, we sometimes make a party for our workers, for our friends. So we cook something like stew, goulasch, or maybe a barbecue." And is it wine that they drink? Or beer. "Wine. Always wine!"
Korak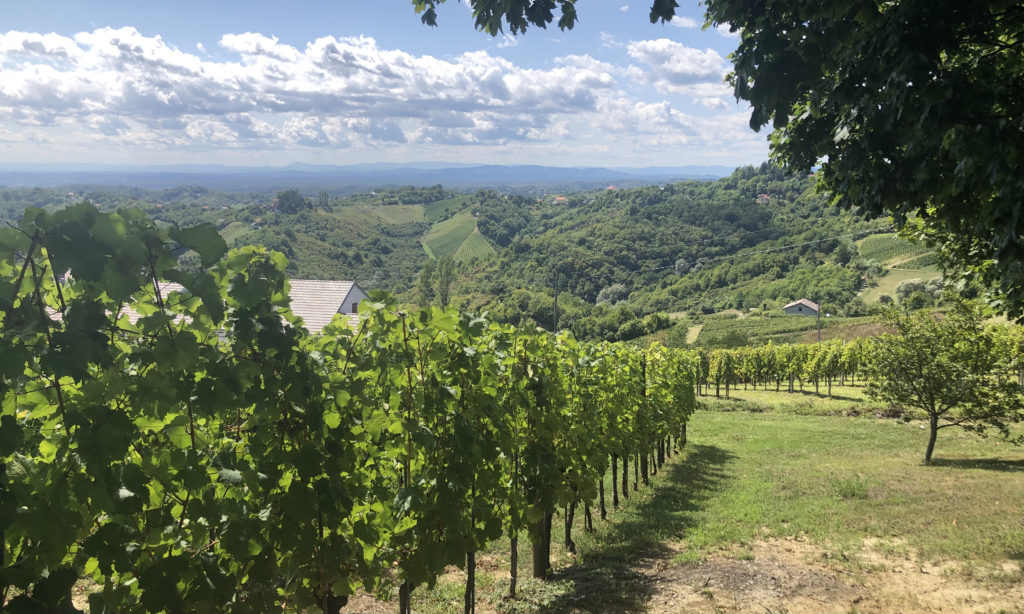 On the first of September, Josip Korak sits sipping his family's sparkling wine on the terrace of the winery restaurant. It is a glorious, sunny day—the kind of day you would want for harvest—but no one in the cool Plešivica region has picked yet. Not even for sparkling wine, whose grapes are harvested earlier than the rest. Korak expects they will start in a week or two. The timing of harvest is "a little tricky" this year, he says, because of the frost in April. The fruit that developed on shoots that survived the frost is now riper than the fruit that formed later, on shoots that regrew after the frost.
Korak expects to have 10 to 15 people helping at harvest. They pick the grapes into shallow crates. With only 20 to 30 pounds of grapes in each, there is less danger of damaging the fruit (and exposing the juice to oxygen) before it reaches the winery. At the winery, there are variations on the same standard procedure, depending on which grapes have come in, and their condition: destemming and crushing, optional maceration, pressing for whites but not reds, settling, fermentation.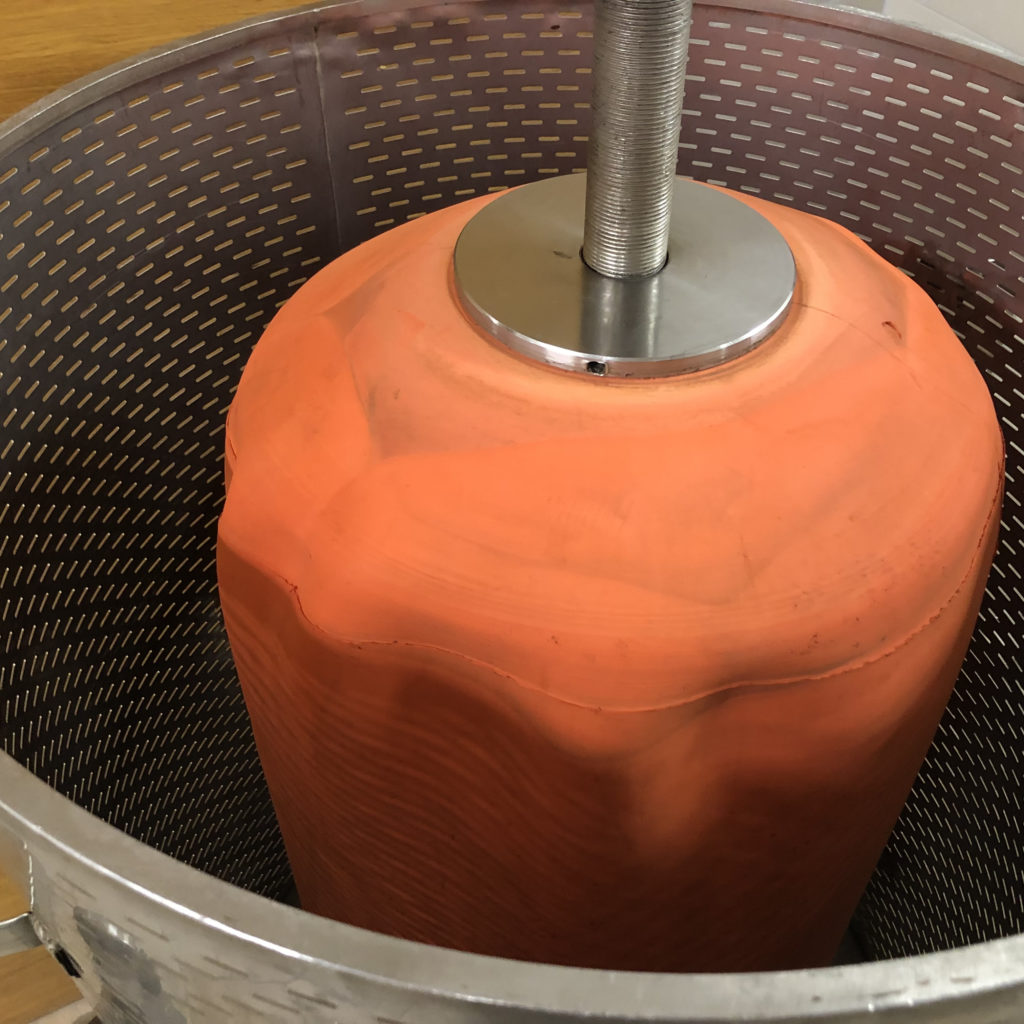 For the Chardonnay, for example, the juice will go into oak barrels instead of tanks for fermentation. And for sparkling wine, Korak does not destem the grapes. The whole bunch goes into the press, where the springy stems help keep the bitter grape seeds from being crushed, among other benefits. 
Korak avoids using cultivated yeast for fermentation whenever possible, in favor of the wild yeast that comes in on the fruit. "It's maybe a little more risk," he says, "but you get a different wine. Maybe more complexity, different aromas. Maybe you don't get as much freshness as when you add yeast, but it's a wine with more terroir. We want our terroir in our wine."
One tradeoff is that wild yeasts are erratic and picky. If the grapes are too ripe, with too much sugar, wild yeasts may give up on the job of fermentation. This results in a slightly sweet wine where the winery wants a dry one. Wild yeasts also require absolutely healthy grapes, so there is less opportunity for strange flavors to develop.
Cultured yeasts are more predictable, more forgiving. But, says Korak, "Sometimes you get similar wine. You can buy yeast and it depends what you want. If you want more fruity, more tropical [wine], you buy this one." In other words, if everyone is buying the same strain of yeast for their Sauvignon Blanc, there is a risk that all the Sauvignon Blanc will taste the same.
"My brother [the chef] makes bread without yeast. They use water and flour and the yeasts come from the air," Korak explains. Sourdough and wine have this in common.
Krajančić
By 11 September, when the Plešivica region was starting harvest, Krajančić on sunny Korčula was already done. Here the harvest started a bit earlier than expected, on 23 August. "The Pošip harvest lasted eight days. It was a very exhausting period because we were working everyday for 15 hours," says Ivana Krajančić. 
"My baba, my grandma, is chief in the vineyards. She is the most important person in the vineyards. And we have 15 to 20 people helping us with the harvest," Krajančić explains. They pick from 5:30 or 6:00 until 9:00 in the morning. "After that . . . the grapes will come to the winery too hot. We want the grapes to come to the winery as cool as possible." Cool grapes and a cool-temperature fermentation help produce a more aromatic wine. 
Krajančić herself was busy receiving the fruit in the winery. She specializes in indigenous yeast and wants to observe how the yeasts from each vineyard behave during fermentation. "We have vineyards from 15 years old to 65 years old. I think it's very interesting to see which type of yeast and which kinds of aromas every vineyard or each yeast on the grapes can bring," she says. Juice from each vineyard goes into its own small tank, where Krajančić can more easily observe which yeasts are dominant, which "starter" is best.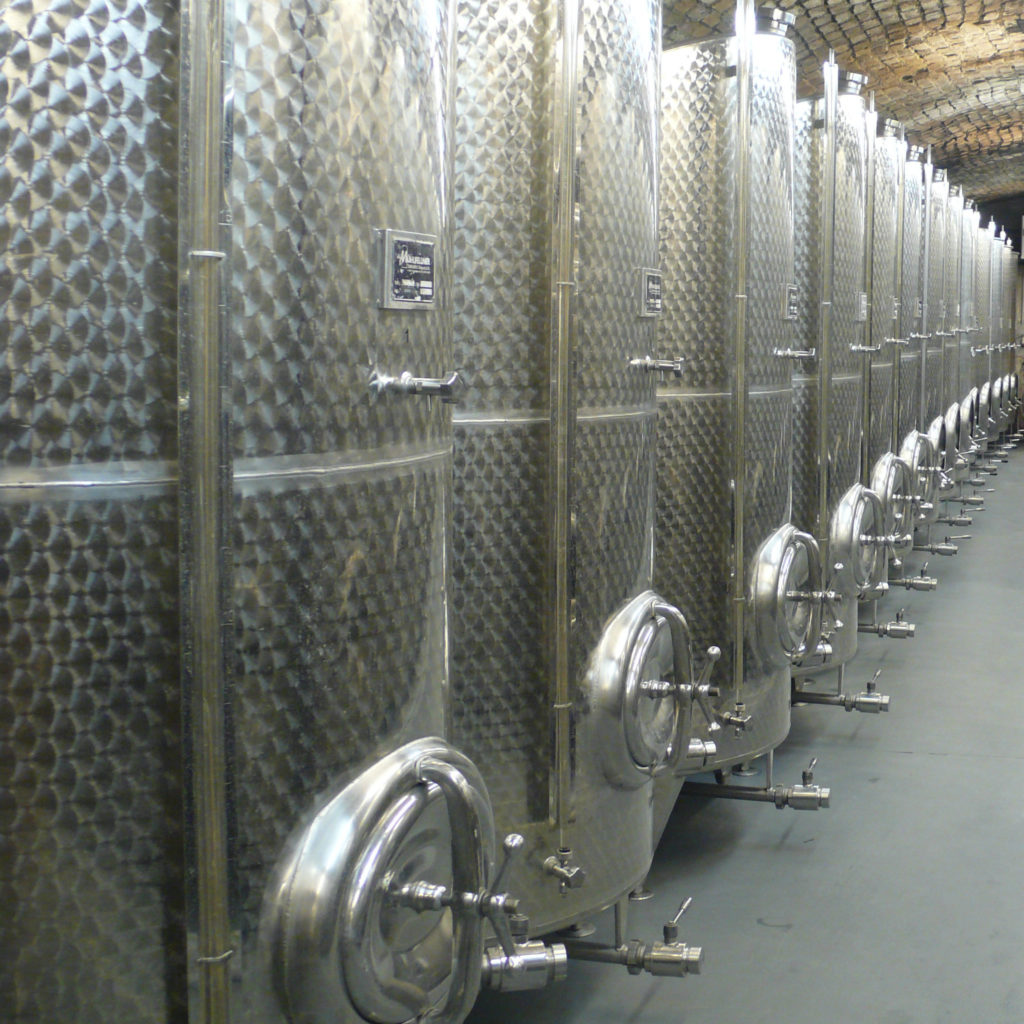 "This is the best part of harvest, when you can go around the winery and smell the fermenting must," she says. Pošip generally smells "like banana, tropical fruit and grapefruit. At the start of fermentation you have these same smells. What is important is to . . . see how the smells develop in each stage of fermentation." Even if something changes and starts to smell a bit funky, she knows not to panic because it will change again.
And it's different for the macerated wines Sur Lie and Statut, which soak for 24 to 48 hours with the skins. "From the beginning, the smells after fermentation started were completely different from the pressed grapes. Kind of more serious aromas, like orange or orange flower . . . more citrussy and spicy aromas."
Where is all this leading? Pošip is a variety with many different clones—versions of Pošip that have developed along their own track and have distinct characteristics. These clones are all growing together in the same vineyards. Krajančić already knows that she prefers wines from the Pošip clones that have more characteristics of one parent grape (Zlatarica) than the other (Bratkovina). "Those clones have more sugar and they're much more aromatic than the other clones," she says. "I would like eventually to separate those clones and have a vineyard only with the best clones. In ten years, I hope that I would start the fermentation for all the must with the [indigenous] yeasts from this special vineyard."
[Title photo: Crates of white grapes at harvest. Staff/CCM]