Wine lovers around the world go wild for rosé every summer, so we tasted 6 Croatian rosés made from a broad assortment of grapes. Read on to choose your next pink drink!
Rosé, as fellow fanatics know, is a perfect, casual cocktail wine that also makes a brilliant pairing with almost any summer food. It is cold, pink perfection. But we only really want it in summer. This may explain why relatively few Croatian wineries make rosé. The tourist season is short, and it would be easy (especially during a pandemic) to be left with unsold bottles. And that explains all the two-year-old rosé in stores at the beginning of summer.
But here's an insider tip. Consumers have been trained to buy rosé only from the most recent harvest—right now that's the 2020 vintage. If it might just kill you to wait through May, June and half of July for your favorite rosé to be released, try the 2019. A well-made rosé can easily last two years, and you can count on most Croatian ones.
Croatia doesn't have a history of rosé wine making. As in many countries, the craze for rosé is a gift from Provence, where pink wine first became popular. Now that there are rosé mega-brands coming from Provence—brands like Ott, Minuty, Miraval—it is not enough just to make pink wine. Many wineries try to replicate the exact shade of light salmon pink associated with Provence rosé. But flavor, color and tannin all come from the same source: the black grape skins. There is a delicate balance to achieving the perfect light color without sacrificing flavor. Or extracting flavor from a grape like Plavac Mali without also getting a bracing dose of tannin. It's just not easy being pink!
All six wines we tasted are variations on salmon pink. Five are dry; one is slightly sweet. Five are vintage 2020; one is 2019. Each highlights the grape or typical blend of its region—and there is something here for everyone!
The Tasting
Note: This tasting is meant to be readable, not comprehensive. We tasted six wines, not 60. The wines are listed in alphabetical order by producer. A star (*) indicates wines that stood out for their quality and flavor on the day of the tasting. Prices are those at the winery or winery webshop.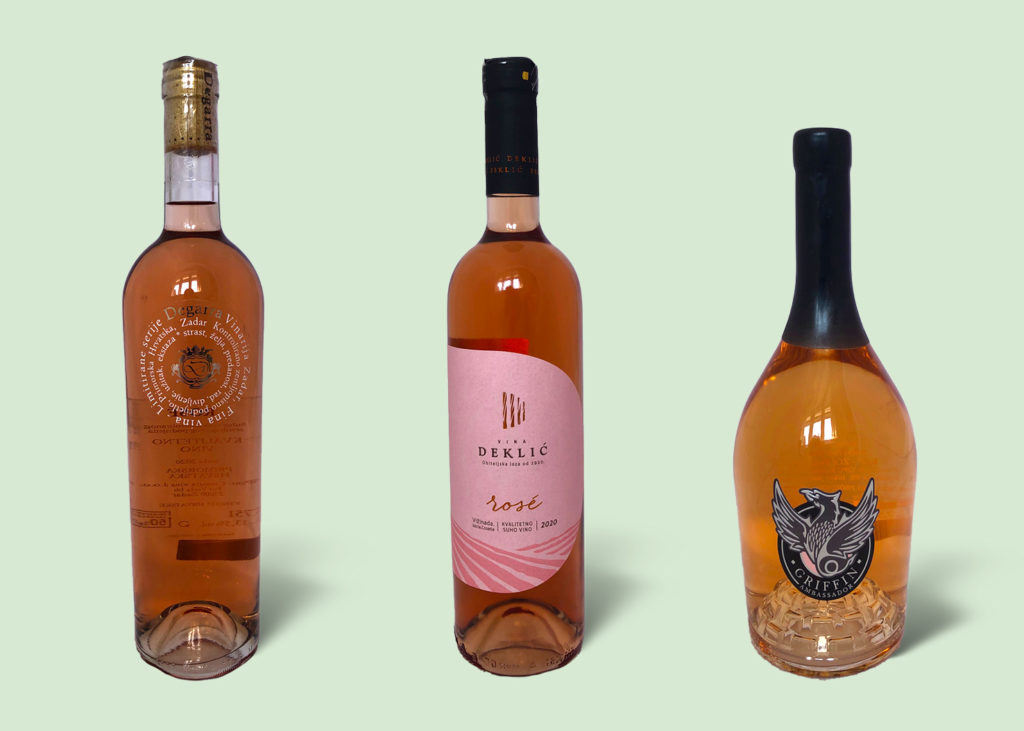 *Degarra Rosé 2020 (Zadar-Biograd) 84 kn
From Northern Dalmatia, near Zadar, an impressively fruity (while still bone dry) rosé made from the local grape Plavina with a touch of Cabernet Sauvignon. Generous cherry-pomegranate flavors are followed by light herbs and stony mineral notes. Best of all, it has an enticing, light floral perfume to it, even before the first sip. Our guest tasters found it "sophisticated and stylish."
Deklić Rosé 2020 (Western Istria) 80 kn
Made from Istria's own black grape variety, Teran, this rosé offers an earthier aroma of ripe apple, and cran-apple flavors. Minimalist and sleek, it's a good bet for anyone who wants less showy fruit or a drier impression in their wine. For those who "don't like rosé," this is your gateway pink.
Griffin Rosé 2020 (Plešivica) 160 kn
A brand new (non-sparkling) rosé from the renowned sparkling wine maker, this has a pretty aroma of dusty roadside summer flowers. It takes a less-is-more approach to fruit: There's a bit of cranberry here, maybe early-season raspberry, but it's more earthy-minerally overall, with a whiff of smoke on the finish. It's made from Portugizac (Blauer Portugieser) and comes in a very fancy bottle dipped in wax.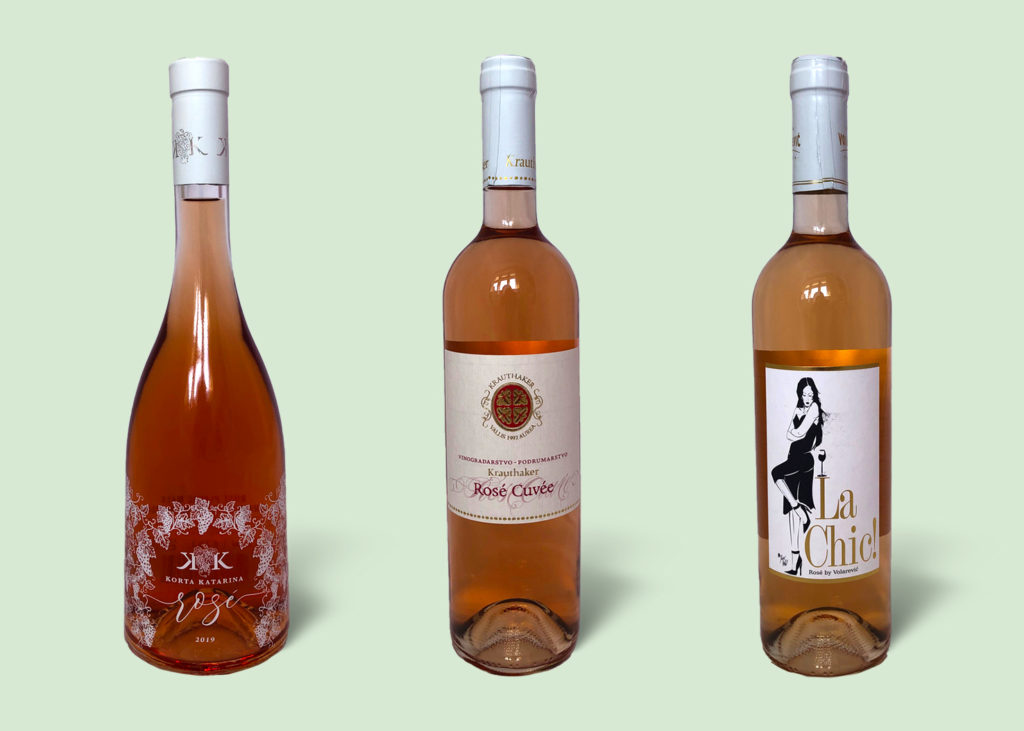 Korta Katarina Rosé 2019 (Pelješac) 139 kn
It's a challenge to make a delicate rosé from a robust grape like Plavac Mali, but Korta Katarina succeeds. Quality fruit from Postup yields an earthy aroma with a fruity top note—think of the smell of fresh pomegranate juice—and cranberry and cherry flavors. It's a light-intensity flavor, with a touch of tannin that lends it texture and refreshment. It could be just the wine for a summery beef carpaccio.
*Krauthaker Rosé Cuvée 2020 (Kutjevo) 55 kn
A cuvée (blend) allows a wine maker to craft a well proportioned wine with just enough of everything. This cuvée is Pinot Noir, Merlot, Cabernet Sauvignon and Syrah, and each variety shows off its talents. It delivers Red Delicious apple aromas and cran-apple flavors, brightened by a slight spritz—tiny CO2 bubbles, common when a rosé is recently bottled, and fading away over time. This is elegance in a bottle.
Volarević La Chic! Rosé 2020 (Komarna) 60 kn
"The label says it all," reported our guest tasters, on this "sexy, provocative" rosé made from Plavac Mali. The La Chic! stands out for its touch of sweetness—there's a little residual sugar here that helps round out the boldness of Plavac and tame any tannin. It's also spicy, like cayenne, with a little spritz of tiny bubbles that punches it up. Drink it very cold, even—dare we suggest it?—with ice. A sippable wine with abundant personality. Organic.
Cheers Croatia Magazine conducts wine tastings in the semi-blind format. This means that we know what wines we have, but they are placed in numbered bags so we can't identify them during the tasting. Wines for tastings are purchased, or occasionally donated by the winery. See the magazine's Affiliations and Gifts Policy for more information.