This is the sixth in a series of 12 monthly articles following eight Croatian wineries through their year. Catch up on last month's activities here.
Compared to the ethereal beauty of cherry blossoms, or even the more rustic blackberry, grape flowers are not much to look at. They lack the petals of other flowers, and simply look fuzzy, covered in yellow pollen. But flowering is a crucial time for winegrowers, because it is one more indication of the quality and quantity of grapes they will harvest in just two to four months.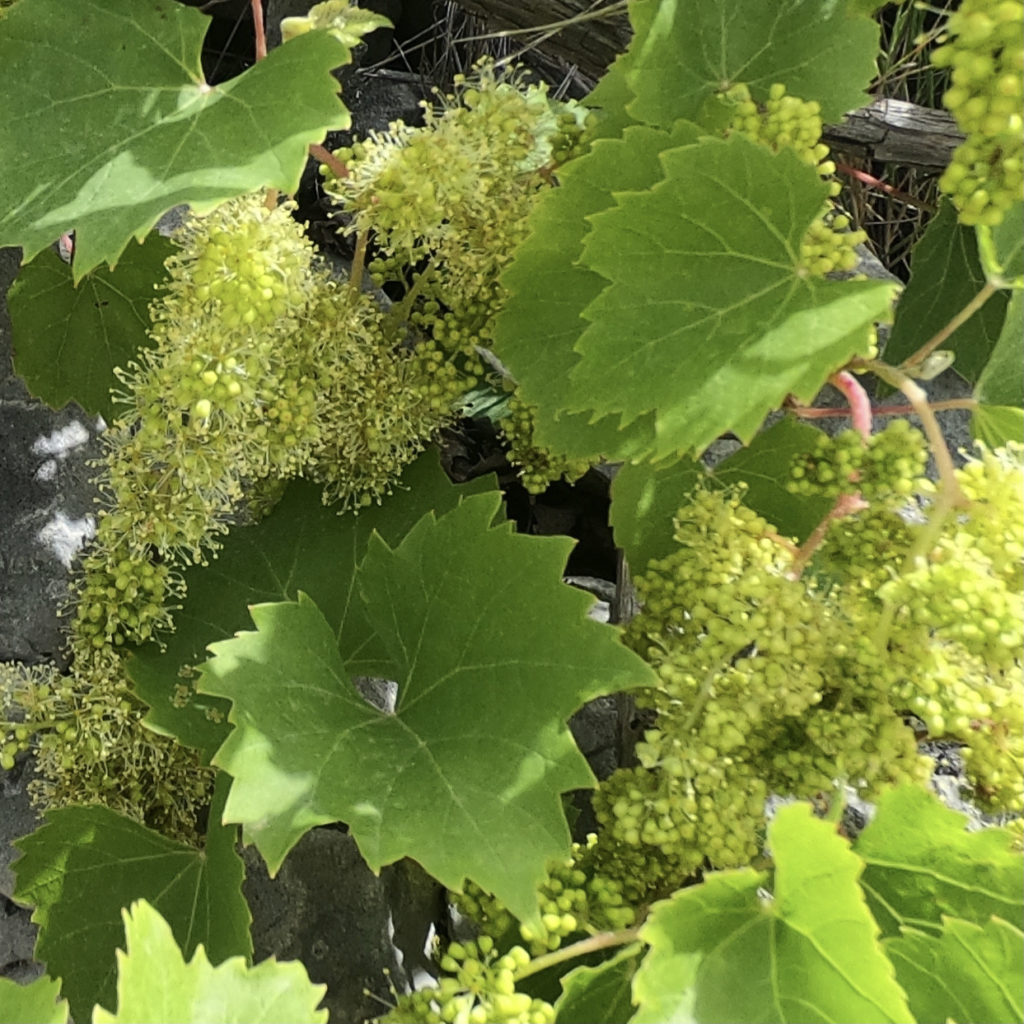 Grapevine flowers are usually hermaphroditic, meaning the male and female sexual parts are present and working in every flower. A few grape varieties, such as Grk, on Korčula, are female only and need to be planted with rows of another variety that flowers at the same time in between. In the case of Grk, insects will carry pollen from Plavac Mali planted in the same vineyard to the female flowers of the Grk vines. Most varieties, however, effectively self-pollinate—although honeybees or a light breeze help things along.
The weather can be a danger at this time of year. If there is heavy rain, flowers will fail to pollinate, resulting in fewer grape berries. But if all goes well, after about five days of flowering, each flower becomes a tiny green grape. Now the winegrower can see how much fruit is on each vine.
And it's not only vines that are blooming this spring. With the availability of EU funds for development, new winery buildings will soon pop up everywhere. Vina Kos breaks ground this month, and both Testament and Galić are planning new wineries in northern Dalmatia. 
Benvenuti
In Istria in early June, nothing is flowering yet. For the past month, growers have been thinning the shoots in the vineyards. To do this, they pluck off shoots that don't have flower clusters on them or ones that aren't in a good position on the vine.
At Benvenuti, the Teran variety gets special treatment just before flowering. "In the Teran vineyards we make a pretty hard defoliation," says Nikola Benvenuti.
Removing lots of leaves around the flower clusters seems destructive, but it serves an important purpose. "Now it seems like too much, but it's not," says Benvenuti. "In just 15, 20 days after the flowering you have new green leaves. But this period of 15 days [without leaves] is important."
The direct sunlight on the flower clusters causes fewer berries to form on each bunch. "That's why we do this defoliation, because then the [grape] cluster is more open. In September or October, when we have more humidity, it's very important that [the bunch] is not too tight together." For Teran, if the berries are too tight in each bunch it hinders air circulation and the bunch will develop rot inside. 
Protecting the new bunches is crucial until they become more mature. "Flowering is the most delicate period in winegrowing because it's the time when the diseases are here." The main danger comes from humidity, which causes mildew. Until mid-July, growers need to be vigilant, observing the vines and spraying if necessary. When the grapes mature, they need less protection—and growers will want to stop vineyard treatments at least a month before harvest.
With the tourist season starting, the forklift takes a starring role in the winery, loading pallets of wine into delivery trucks. Much bottling and labeling has been done in the past two months to prepare for the big surge of summer sales. Fresh 2020-vintage Malvasia and rosé are especially in demand now.
Vina Kos
Karlo Kos is also waiting for the vines to flower. He is pleased to have a few sunny, summery days so people and machines can get into the vineyards and work while the ground is dry. As always, the rain has caused grass to grow in the vineyards. The family will mow it now and then let it grow again for a few weeks until the vines have flowered. "We don't want the grass to grow very tall but we want something for flowering, for bees," Kos explains.
We drive the narrow roads to the top of the hill opposite the winery, where Riesling and Pinot Noir grow. Kos has not yet done shoot thinning on these vines, and he gives a quick lesson on which shoots will be removed. To the untrained eye, it is a chaos of leaves. It takes skill to read the vine—and when the thinning is underway, the workers' hands are flying. 
In the winery, the family has just bottled 3,000 bottles of their sparkling white wine, Anita. Kos uses the traditional method for sparkling wines, so the white has been dosed with yeast and sugar and will ferment inside each bottle to produce the bubbles.
Even with the bottling machine, the process can be demanding. The family adds the yeast and sugar to the tank with the base wine in it. Then it needs to be stirred. "If you don't stir it, the yeast will be on the bottom of the tank. But we need the same concentration of yeast in every bottle, so we need to stir continuously," says Kos. It is best to stir by hand, because using a pump to stir introduces too much oxygen into the wine. "We bottled 3,000 bottles in four hours, so for four hours someone was stirring," Kos says with a smile.
"And then they ferment. We hope that they ferment," he adds. "We need to have good pH, acid and alcohol. When something isn't in a good range then we have a stuck fermentation." This means the fermentation has failed—and because the wine is inside 3,000 bottles, there is no way to fix it. If this happened, the wine would be discarded. If all is well, fermentation will finish after about a month. The sugar will be gone, and the yeast cells (lees) in each bottle will contribute flavor to the wine during the three years it ages.
Testament
In northern Dalmatia in the first week of June, the Pošip and Babić vines at Testament have already flowered. Now that tiny green grape berries are visible on the bunches, Juraj Sladić can see how much fruit he will have this year.
Testament's vineyard team has already taken steps to control the grape yield during shoot thinning. The rocky terroir and the tendencies of the grape variety also do their part to keep yields in check. "In 2018, a record year, we had less than 1 kilo per plant," Sladić says of the Babić. The Pošip variety wants to produce lots of grapes, but at Testament the yield is low. "Pošip in Korčula yields sometimes 3, 4, 5 kilos per vine. We have usually 1, 1.5 kilos on average," he says. 
"We have another issue with Pošip, because it is too sensitive to sunburn," says Sladić. Pošip grapes have thin skins. If the intense sun hits the grape berry too directly, the skin develops a light brown stain, like a sun spot on human skin. If the sun damage is serious, the grape will shrivel. But even mild damage affects the flavor of the grapes. "You lose the fresh aromas," says Sladić.
To protect against sunburn, he says, "we do pruning back differently. It's nothing specific, we just leave those leaves in different positions than we do with Babić." Each grape variety has its own habits and needs. Growers know there are different "rules" for different grapes, and even for different small areas of the vineyard. "It's never by recipe," says Sladić.
Testament, too, is busy shipping wine to restaurants and shops in Croatia and abroad. Sladić has strong orders for his new premium line of wines, and plans for a new wine shop in Skradin and a pop-up kiosk at the bridge between Brodarica and Žaborić, with its fantastic view.
Galić
Slaven Jeličić is headed to Dalmatia to look at the Galić vineyards, adjacent to Testament's, which have already flowered. Once he sees the results, he'll consider doing green harvest in some vineyards. 
Green harvest is another way of controlling how many grapes each plant produces. If growers remove some of the grape bunches now, when they're tiny, the plant can devote its energy to fewer bunches of better quality. Jeličić will consider which locations in Galić's 45 hectares here will provide fruit for basic wines versus premium wines. For the premium wines, he may want to reduce the yield.
The Slavonia vineyards are about to flower, Jeličić says, "and we are praying God not to have hail. We had one four or five days ago and luckily there was no damage." Hail right now would cause flowers to drop off the vines; after flowering, it would cause grape berries to fall. "Last vintage we had such bad hail that it even ruined the wood of the vines," says Jeličić.
It may seem as if hail would only help to reduce the yield, and this is true, to a point. But if a grower has yields at the ideal level and then loses fruit to hail, rot or another act of nature, the harvest will fall short. Ultimately the winery's income may be affected. 
"In the cellar," Jeličić says, "it's crowded because in the last two or three weeks selling has gone crazy. Almost everyday we have five to ten pallets to ship. Now we are in the balance of selling and filling and preparing for the new season."
Now that travel is possible again, the Galić team are also pursuing some new ideas. They have just returned from Hungary, where they went to see optical sorting machines in action. Galić will have its own new optical sorter for the coming harvest; this machine can identify and reject any grape berries that are less than optimal.
While in Hungary, Jeličić spotted a flock of babydoll sheep, which he has being trying to find for the organic vineyards in Dalmatia. These small sheep would keep the grass cropped between the vine rows, but they have been difficult to find. Perhaps Hungary will be the source for a flock at Galić.
[Title photo: New Babić grapes at Testament. Immediately after flowering, tiny grape berries are visible. Staff/CCM]