One of the better developments in 2020 was an idea that seemed to strike many Croatian wine makers at once: Why don't we try making pet-nat? Here in spring of 2021, we reap the rewards . . . fresh, fizzy wines that are affordable (most under 100 kuna) and easy to guzzle.
Pet-nat is the easy way to say pétillant-naturel, a French term that describes softly sparkling wines made by the "ancestral method" rather than the way Champagne is made. For Champagne, you start with wine, add more yeast and sugar, and bottle it. Inside the bottle, the yeast starts a second fermentation and produces alcohol and carbon dioxide. The carbon dioxide is trapped in the bottle to emerge as bubbles when you open it. 
The ancestral method cuts right to the chase by skipping the second fermentation. Instead, the wine maker bottles the wine before it's done fermenting the first time—while it still has yeast and sugar in it from the grapes. This results in a softer bubble and usually a noticeable sediment in the bottom of the bottle: the yeast cells and grape bits that are naturally in the wine. It's also quick. Because this is a fresh style of wine, it can be sold in the spring right after harvest instead of needing to be aged for two or three years.
How do you serve pet-nat? Well . . . carefully. Because of the sediment in the bottle, the wine has a tendency to fizz up again and again when you open it, like a volcano on repeat. An outdoor location and a well chilled bottle are musts. Luckily, pet-nat is the perfect picnic wine.
And what to do about the sediment? Think of pet-nat as the beer of wines—a little cloudy, yeasty sediment adds texture, and that's sort of the point. Ivana Kolarić, whose family makes Coletti Cat Nat, says, "My husband [the wine maker] always mixes it in. He says it is like a juice, like a beer. Do you know what Radler is? We call it Radler wine." (Don't complicate your life by shaking the bottle! The fizzing when you open it will stir up just enough sediment for the real experience.)
The 2020 wines are in short supply. Most wine makers experimented with pet-nat last year and intend to make more in 2021. It is bottled in March or April and doesn't always make it into wine shops, so show up early at the tasting room door.
Note: All of the pet-nats tasted are dry, not sweet. They are listed in alphabetical order by producer, then in order of color. A star (*) indicates wines that stood out for their quality and flavor on the day of the tasting.
Coletti "Cat Nat" White 2020 (Plešivica)
A bit of fun named for the winery's two cats, and made from Pinot Grigio, Chardonnay, and four "old sorts" that grow in Plešivica. Lemon is the theme here: It looks like lemon juice, and tastes like the zest, even lemon hard candy (without the sugar). Or yes, sophisticated Radler.
*Madirazza Pošip White 2020 (Pelješac)
One of the fruitier pet-nats tasted, this is a glassful of pear and spring blossoms, with a little biscuity-buttery note. The slight bitterness on the finish is refreshing and sets you up for another sip . . . and another.
Madirazza Rukatac White 2020 (Pelješac)
If the Madirazza Pošip is fruity, the Rukatac is earthy. There's a hint of the aroma of blossoming trees, but the flavor is of apple slices that have browned slightly in the air, yogurt (from the yeast lees), and again a hit of bitterness. An intellectual counterpoint to the fun-loving Pošip.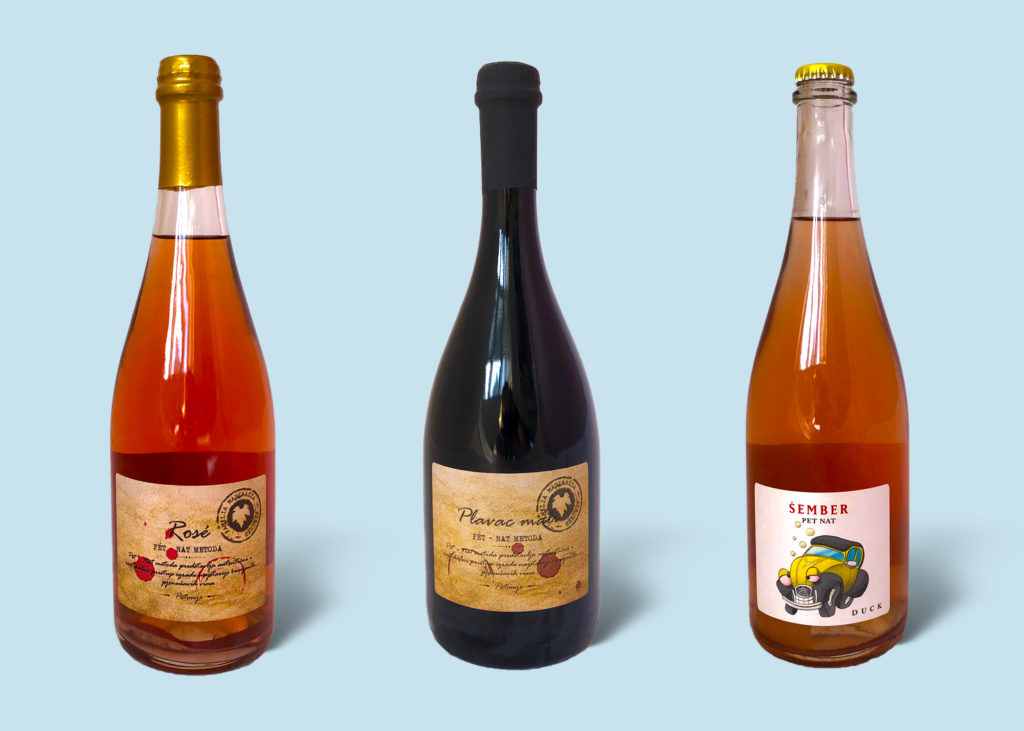 Madirazza Rosé 2020 (Pelješac)
A cloudy, dark petal-pink in the glass, with light floral and even fruit-candy aromas. The flavor is noticeably cran-apple with a hint of watermelon—the less-sweet part near the rind.
Madirazza Plavac Mali Red 2020 (Pelješac)
For those who love Plavac Mali in any form it takes, this wine offers a yin-and-yang of robust red and light fizz. The sparkle is more of a spritz, and chilling the wine brings out a little tannin, but the reward is juicy black cherry flavors with a briary, wild note.
Šember "Duck" Rosé 2020 (Plešivica)
A fun label from a family that loves the Citroën 2CV. This light and frothy rosé has less sediment in the bottle, for those who like their wine clear. Simply refreshing.
Tomac White 2020 (Plešivica)
An organic and biodynamic pet-nat from one Plešivica family known for their sparkling wines. This one is light and refreshing, with a hint of (good) bitterness. On the minerally-to-fruity scale, it's way toward minerally.
Tomac Rosé 2020 (Plešivica)
Organic and biodynamic, this vibrant pink rosé has less deposit in the bottle, for a clearer wine in the glass. With its light apple and floral notes and very little leesy tang, this is the most delicate of the rosés here.
*Veralda 5t Rosé 2020 (Istria)
The Istrian entry is very expressive, with cranberry, Red Delicious apple and strawberry aromas, and an intriguing vegetal note on the palate. Think of light, fresh apple juice with a little raw zucchini stirred in. And it works! (It's also organic.)
Cheers Croatia Magazine conducts wine tastings in the semi-blind format. This means that we know what wines we have, but they are placed in numbered bags so we can't identify them during the tasting. Wines for tastings are purchased or occasionally donated by the winery. See the magazine's Affiliations and Gifts Policy for more information.
[Title photo: Staff/CCM]