When the Franciscan monks of Samobor first formulated bermet in the early 18th century, it was nothing like today's deliciously bittersweet, spiced wine. After all, it was a medicine, intended to soothe digestive ailments and relieve fever. Over the past 300 years, an organic process of improvements has led to the four secret recipes in use in Samobor today, and ensured bermet's position in the array of international aperitifs and digestifs we still turn to for a sophisticated self-cure.
Inventing bermet
Samobor's first pharmacy was located in the Franciscan monastery that still stands just up the hill from King Tomislav square, at the center of the old town. As literate men with a knowledge of the science of the day, the monks were the obvious choice to make and dispense cures. Many of these took advantage of the powers of herbs. Wine or spirits would have been used to better extract the oils or essential compounds of the active ingredients. This is the origin of bermet.
"In the beginning it was only red wine and pelin [wormwood]," said Zdravko Župančić, one of the four modern makers of bermet. But Samobor was a town of prosperous craftsmen, with an ideal position on a trade route. Rich families in town were able to get citrus fruits, carob and dried figs from the coast, as well as the sugar and exotic spices from foreign trade that were in such demand in Europe. It wasn't long before these ingredients found their way into bermet, as a sweet counterpart to the bitter flavor of wormwood. "Because the ingredients were very expensive, only families who had a lot of money could produce bermet," said Anita Scheliga, partner of Mario Koletić of Vinarija Pavlin, another bermet maker in Samobor.
Slowly, the ingredients became more widely available and bermet became a Samobor tradition—always with its defining ingredient, bitter wormwood. "In the beginning of the 20th century in the Samobor region, almost every family that had grapes for wine produced a small barrel, about 50, 100 liters, and they always opened this barrel on Christmas morning," said Župančić.
The legend of wormwood
As bermet was becoming the preferred before- or after-dinner drink in Samobor, a similar process was happening in other areas of Europe. Chartreuse liqueur was developed by Carthusian monks in France in 1737, and contains 130 herbal ingredients. Likewise, the Italian amaro Averna was derived from the recipe of a Sicilian abbey in the 19th century.
Absinthe was developed as an herbal tonic based on wormwood in the 1790s, and it too was modified and sold as an aperitif. After centuries of relieving digestive ailments, wormwood's reputation took a hit when the wild popularity of absinthe wrought havoc in late 19th-century France. The spirit is famously associated with the artists, writers and bon vivants of the Belle Epoque—Vincent Van Gogh and his circle of friends, Oscar Wilde, Ernest Hemingway—but it was popular throughout France for being strong, cheap and widely available.
Wormwood contains a compound called thujone that was identified as a neurotoxin at the time, and the term absinthism came to describe the hallucinations and delirium often suffered by absinthe drinkers. In the early years of the 20th century, absinthe was banned in most countries of Europe as well as the U.S.
In the decades since, scientists have determined that absinthe does not contain enough thujone from wormwood to explain absinthism. It has been pointed out that manufacturers of the cheapest absinthes used many questionable ingredients and processes that likely affected the health of habitual absinthe drinkers. Not coincidentally, the symptoms of absinthism were virtually identical to those of alcoholism.
Absinthe is once again legal in the EU (since 1988), with a limit on the amount of thujone it contains. It has been legal in the United States since 2007.
A recipe rooted in history
Bermet today is made much as it was 200 years ago. "I have some recipes here from the 18th century that have citrus, orange, they have anise, they have a lot of things that now you can find in modern bermet," said Antun Filipec, one of the four commercial makers of bermet in Samobor. Each of the recipes of these four families is a closely guarded secret, but they all have a few steps in common.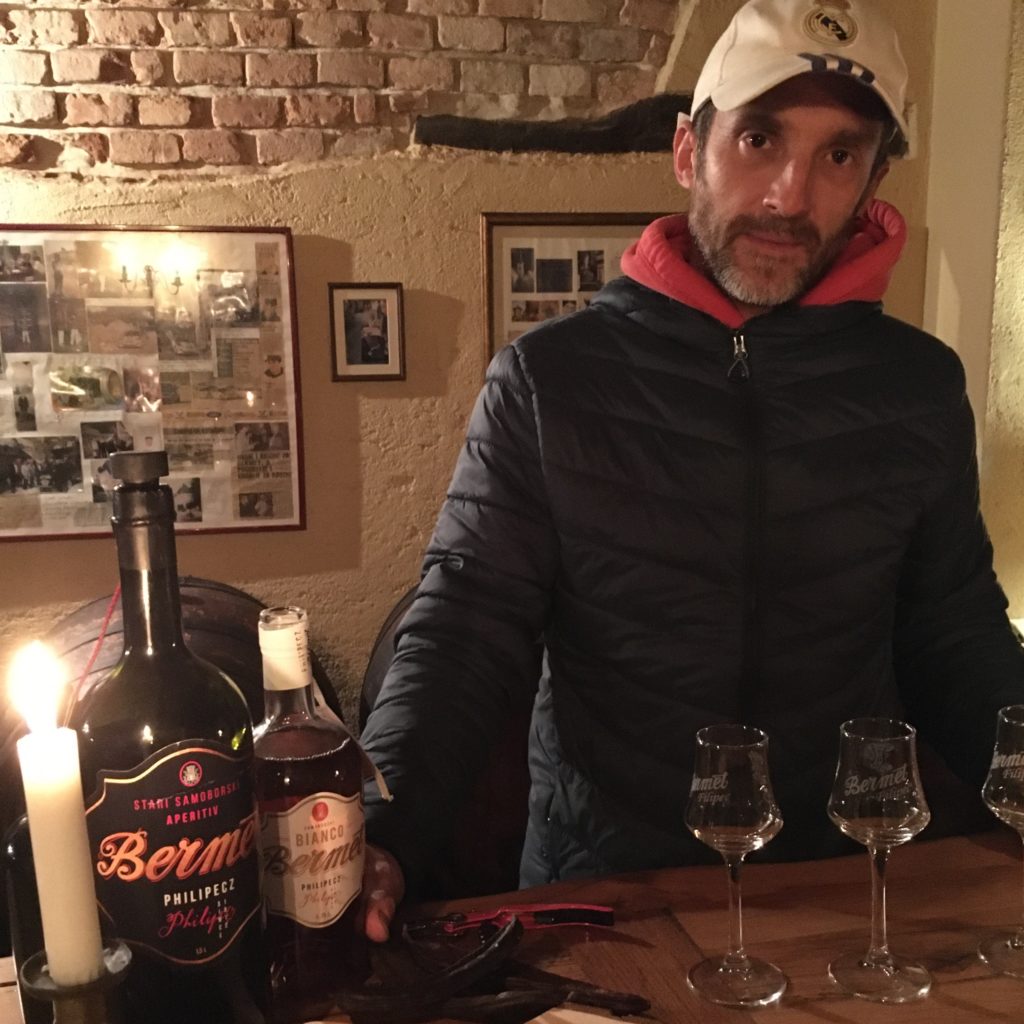 Bermet starts with red wine fresh from the fall harvest, made from the grape varieties that have traditionally grown in this region: Frankovka, Portugizac, Zweigelt and Dornfelder. Some recipes call for older wine to be added, but only Filipec chooses to do this.
Some of the flavoring ingredients are still sourced from Croatia's coast, such as carob from Vis, figs from Cres and oranges and lemons from the Neretva valley. The flavorings—including spices such as nutmeg, anise, vanilla and coriander, and of course local wormwood—are added to the wine and left to macerate for up to one year to draw out their flavor. The flavorings are then removed and the wine is sweetened and aged before bottling. Unlike vermouth or liqueurs, bermet is not fortified with brandy; its alcohol content remains at the level of wine, between about 11.5% and 15%.
Tasting Samobor bermet
"It's very important that bermet is cold, from the fridge, and some like a slice of lemon, but you can't use ice," Župančić emphasizes, when asked how bermet is served. All four makers agree: bermet can be sipped before or after dinner, but always cold. It is not a dessert wine, although Župančić concedes, "maybe with cookies," and Filipec admits it is good with kugelhopf. Hoping to extend bermet's popularity beyond the winter season, Filipec has also developed gin-and-tonic and negroni cocktails around it. But the best way to drink bermet is as it was intended, before or after a rich, wintery meal, to aid the digestion.
The four recipes yield four quite different bermets.
Fabek Dubravka Fabek devised her recipe with her late husband fifteen years ago, making Fabek the youngest formula. It is also the gentlest bermet, with subtler bitterness and pleasant vanilla notes.
Filipecz "You can find the diversity of taste in one sip of bermet," says Antun Filipec, the current generation of the family that has made Filipecz bermet since 1946. Filipecz is the most bitter of the four, with earthy wormwood and citrus pith notes on top of subtler fig and carob aromas. Filipec also offers a white version of bermet as a limited edition.
Vinarija Pavlin Mario Koletić of Pavlin winery insists that the flavorings for bermet must macerate in the wine for a whole year. The result is the richest version of bermet, a full-bodied wine with the sweetness of vanilla and citrus balancing the essential bitterness of wormwood. The Pavlin recipe came from one of Samobor's wealthy families via Koletić's grandfather, who started making bermet in 1958.
Župančić Vina "Always bermet first has to be a little bit sweet and later you must feel the herbal notes, in the aftertaste," says Zdravko Župančić, who began making bermet 15 years ago from a recipe his grandfather used. Župančić bermet starts with anise and fig aromas, then bitter wormwood in the middle joined by carob on the end. It is light and elegant, deftly balanced.
Is bermet still an effective cure for what ails you? Little has changed: its wormwood soothes, and if the spicy sweetness doesn't charm you, a little red wine will take the edge off things. As Anita Scheliga of Pavlin points out, "If something was hurting, you drank bermet. It was 200 years ago but it's the same actually now."
[Cover photo: Staff/CCM]