After multiple wine bar, shop and restaurant openings last year, Zagreb in 2023 truly is for wine lovers. Get your fill of wine culture with workshops and tastings, by-the-glass hangouts, innovators in natural wine and multi-day expos. Or if it's tasting rooms you want, Croatia's capital city is surrounded by vineyard regions. Here is the cream of Zagreb . . . for wine lovers.
This article covers:
Best Wine Bars for By-the-Glass
There are hundreds of places to get a glass around town, but few of them actually focus on wine. Even fewer do it well, with a better-than-basic selection and knowledgeable staff. Here are our six top choices.
Bastion No. 19 is the old guard (since 2016) in Lower Town, keeping it real with a focus on natural wine and craft beer in a no-nonsense bar space. About 35 natural wines, most available by the glass, give you an opportunity to try something you won't find elsewhere in town. A favorite spot of wine-centric locals.
Wine Bar Bornstein In the pretty Kaptol district, tucked in a courtyard a short walk from Zagreb cathedral, is Bornstein. What started as Croatia's first wine shop some 30 years ago is now beloved as well for its atmospheric wine bar. Bornstein's friendly owners, Doris and Ivan; their location in an antique, vaulted cellar; and the five well-designed tastings they offer—all in English—have garnered them fans from all over the world. The wine shop is in the same place, and you'll find local food delicacies here as well.
Cheese Bar You might reasonably assume that Cheese Bar, just off Ban Josip Jelačić Square, is a cheese-and-charcuterie lover's paradise. But it also has possibly the longest by-the-glass list of Croatian wines in Zagreb—more than 120 of them. Compose your own cheese plate, along with kobasice (sausages) and condiments (homemade onion jam, cod or chickpea pate, stuffed peppers, white or salty brown anchovies…) and order a wine you've never tried before. The staff are happy to help curate the perfect palette of flavors.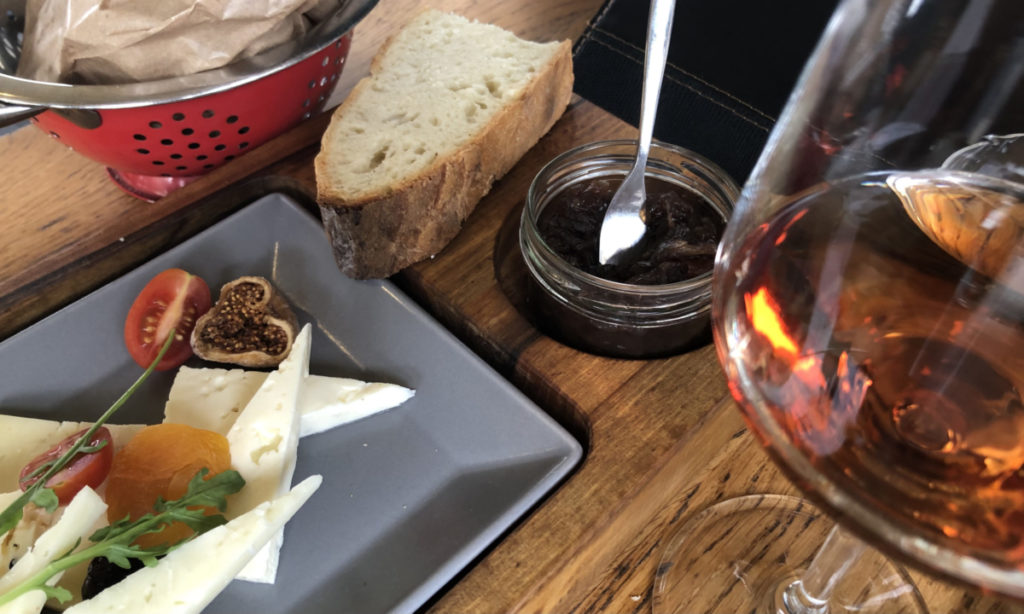 DiWine Bar is a great place to unwind, with all its wines available by the glass and décor that feels like your hip best friend's living room. But as owner Irena Lučić explains, "The location is in a place where something always needs to be happening." And Lučić is expert at designing events. Since DiWine opened in mid-September 2022, it has hosted workshops and birthday parties, guided tastings with food ("it is always a focus on indigenous wines") and focus-tastings on specific wine regions. The goal is for DiWine to be "a place of education, where you know you can get a good workshop and which will not push you away because you're a beginner." Lučić also has an eye on her English-speaking audience—she is already collaborating with a local expat group on events in English.
Oio Vivo & WINE This chic caffe-bar and miniature wine shop, open since May 2022, is a collaboration between the Istrian olive oil producer Oio Vivo and Bogdanović Winery in Ilok. Coffee in the morning gives over to wine (and more coffee) in the afternoon. You can try any of the 60-plus bottles by the glass, including Chardonnay, Graševina and Cabernet Sauvignon from Bogdanović. With its amiable staff and central location at Trg Europe, this could be your daily stop.
Pupitres When we arrived at Pupitres, the staff were setting up for the evening's workshop, "How to recognize quality in wine," with Edi Maletić, University of Zagreb Professor and one of Croatia's top wine experts. If you speak Croatian, the tastings and other talks listed each month on the Pupitres website will be tantalizing. A four- or seven-wine guided tasting in English can also be arranged in advance. Or just stop in for a casual glass from the well-rounded wine list. For years Pupitres' owner, sommelier Jelena Šimić Valentić, has also run a wine school. Consult Pupitres' website for details.
Restaurants for Any Day
For world-class dining, Zagreb's Michelin-starred restaurant is Noel. Noel's co-owner and sommelier, Ivan Jug, has just been judged Croatia's best somm (again!). The Noel experience is everything you could ask for, but we will set it and Zagreb's other fine dining stars aside as obvious special-occasion splurges. Instead here are three more-accessible gems, each with a fantastic wine selection and plenty of by-the-glass choices.
Jadranka is a casual, arty local bistro by the owners of Miva wine shop, one outpost of which is next door. Which explains why a small place off the touristed path offers 70 wines by the glass. Come for lunch with the locals and make your choice from the blackboard, where modern Mediterranean dishes are each paired with a suggested wine. Or stop by for afternoon "research," then score bottles of your favorites at the shop.
Nomu When someone says "sushi," most of us think sake. But wine pairs beautifully with raw fish and umami-intensive Asian dishes, and Nomu has mastered the art. The wine list is extensive, with most wines available by the glass. For those who prefer more conventional fare, there is also a generous cheese and charcuterie list. Settle yourself outside to watch the world go by, and let the friendly staff suggest a wine or two that will help you experience Asian flavors in a whole new way.
Sopal The kitchen at Sopal transforms high-concept dishes made from excellent ingredients into something still elegant, but also fun and shareable. The wine, too, is a novel idea: an international list of mostly natural wines that bend the boundaries of what wine can be. Whatever your opinion of natural wine, these are well selected to highlight the pure flavors of whatever is on your plate. The open kitchen and local art on the walls lend a casual atmosphere that will draw you back . You'll leave feeling you've discovered something new and inspirational.
Wine Shops and Other Retail
Nesputana Vina ("uninhibited wine") is perhaps both an effect and a cause of a spike in interest in natural wine in Zagreb—witness Bastion No. 19 and Sopal, above. "We are the first wine shop in Zagreb (and also in Croatia) that is dedicated to natural wines," says owner Boris Sarjanović.
More specifically, the shop sells organic, biodynamic and natural wines from all over Europe. The staff are happy to help demystify these terms. Sarjanović explains, "For me the most important thing is spontaneous fermentation, because spontaneous fermentation is the proof that the vineyard is clean." In order for spontaneous fermentation (using no added yeasts) to succeed, the grapes must have been farmed organically or biodynamically—hence the tripartite focus at Nesputana. The store has begun holding workshops, opening seven bottles for seven people at their small shop table, and will move them outdoors into the courtyard when weather permits. English-language sessions can be arranged.
There are plenty of more conventional wine shops in Zagreb, selling wine, spirits and related accessories such as glassware and decanters. Most shops offer online ordering and free delivery within Croatia for a specified minimum order—details and exceptions are on their websites.
Each shop carries some exclusive products that may draw you to one over another. Or choose by the type of shopping experience you want. Moments Wine (1 location) and Vinoteka Svijet Vina (3 locations) cultivate a high-luxury image. For a more down-to-earth approach there are Miva Galerija Vina (2 locations) and Vivat Fina Vina (2 locations). Vinoteka Vintesa (1 location) is the homiest option, with an outdoor terrace where you can order wine by the glass, or open any bottle from the shop for a small fee. Of course, the best way to choose your wine shop is to connect with one of the wine experts there, someone who understands what you want.
As elsewhere in Croatia, supermarkets in Zagreb offer a modest selection of wines—in general the bigger the store, the broader the selection and the more higher-quality bottles it has. For more about the best places to buy wine, see 9 Insider Tips for Buying Wine in Croatia.
One final place to find wine in town is at individual winery shops. There is a good selection of these at Dolac Market, Zagreb's farmer's market. Inside the market hall (entrance on Pod Zidom) are the winery shops of Vino Ilok, Iločki Podrumi (both wineries in Ilok) and Šoškić (winery in Plešivica). Each of these also have other locations in Zagreb where you can buy wine in bottles or, the most economical option, u rinfuzi (drawn from the tank into your own bottle). Nearby Dolac Market, the Pelješac winery Madirazza also has a shop.
Two Major Wine Fairs
The two biggest wine fairs in Zagreb are in fall and spring. A cluster of smaller tastings and events tend to be held around the same time, when hundreds of wine makers are in town and thousands of wine lovers' palates are honed and ready. The "walk-around tasting" is what you want to attend: each winery has a table where wine makers pour tastes, answer questions, and visit with colleagues and customers.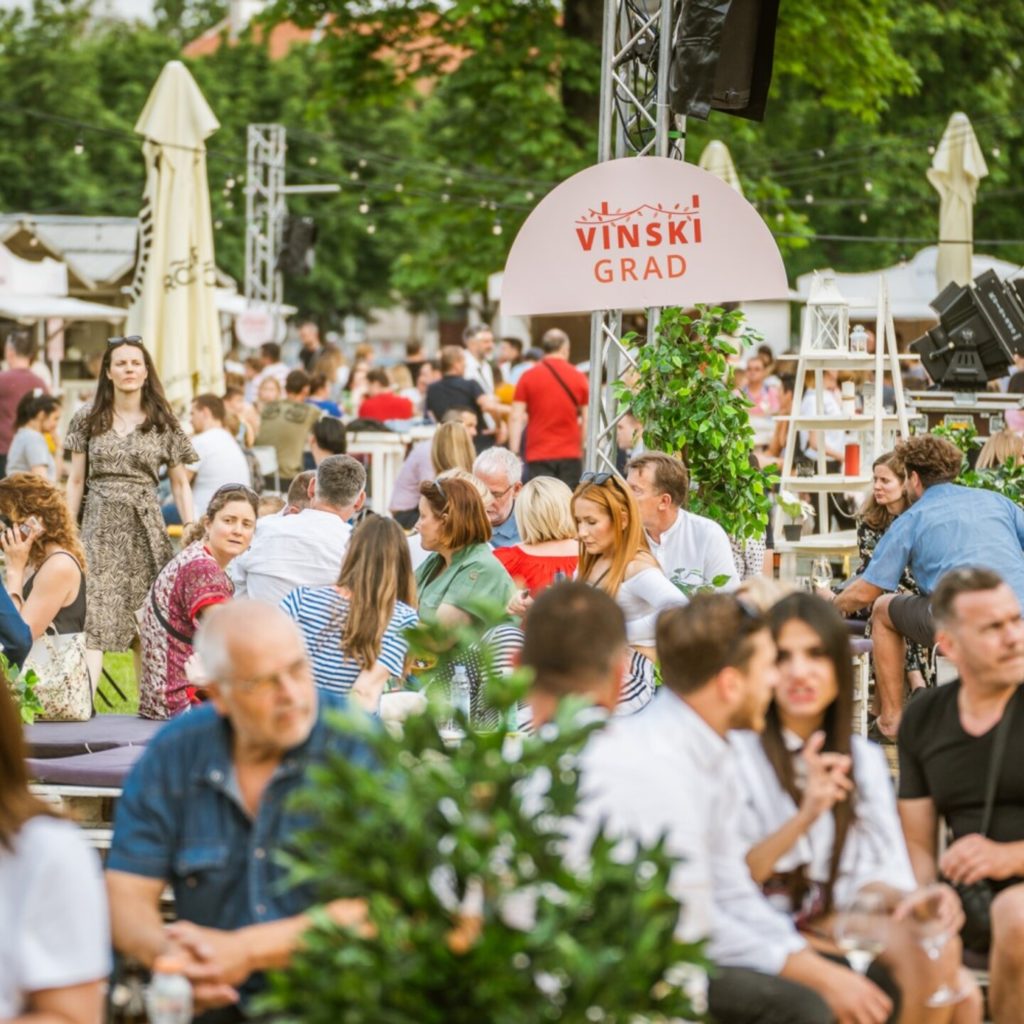 Vinart sponsors the younger of the main fairs, just one wine event among many that they organize during the year. The Zagreb fair is targeted to wine professionals more than consumers, but for an entrance fee you are welcome to attend the walk-around tasting that takes place each March at the Lauba exhibition space. On the weekends prior, there is a series of paid seminars (in Croatian).
Vinart is not only the wine fair of that name, but a company that promotes wine culture year-round through events, publishing and marketing. One of their popular consumer events, Vinski grad (aka Wineopolis) takes place in Zagreb and other cities around Croatia. This is a fun, outdoor summer event with a festival atmosphere, where attendees rent a wineglass and buy drinks tickets to sample wines. The 2023 Zagreb Vinski grad will be held 9-25 June in Park dr. Franje Tuđmana.
Vinocom Zagreb's first and oldest wine fair is held each November at the grand Hotel Esplanade. Billed as the International Festival of Wine and Culinary Art, Vinocom offers a giant walk-around tasting of mostly Croatian wines as well as gourmet foods. The event is open to the public; paid admission gets you a glass and unlimited tastes. There is also a schedule of workshop tastings (in Croatian) which have limited seating and cost extra.
Vinocom is a fantastic chance for an instant education in Croatian wine. Use your guidebook to taste region by region, by grape variety or by wine type. Most wine makers or their representatives speak English and are happy to give an overview and answer questions. The exhibition spaces are generally crowded, and become more so after office hours, when the event takes on a party atmosphere. Time your entrance accordingly!
Wineries in Every Direction
Zagreb is the ideal jumping-off point for daytrips to the wine regions all around the city. Zagreb itself forms the western edge of the Prigorje-Bilogora region. Closest to the city is Zelena, only about a 40-minute drive from the center. Seek out wines from the region's native grape, the white variety Kraljevina.
To the north and west of the city, within easy driving distance, are the large regions of Zagorje-Međimurje and Plešivica. In both, you'll find innovative, modern winemaking, including some of the finest sparkling wines made in Croatia. To Zagreb's south and southeast, look for the indigenous white grape variety Škrlet.
One winery, Vina Jakob, falls within the Zagreb city limits, at its northern border. Here, on the ground floor of the family home, Ilija Zdravko Jakobović built winemaking facilities meant to connect him to his family heritage in Slavonia, particularly his vineyards in Brodski Stupnik. Each harvest, grapes grown there are brought to the winery in Zagreb, now owned by the three Jakobović daughters. The winery produces a highly-regarded Bordeaux blend, Syrah and rosé under the eye of consulting winemaker Ivona Jeličić.
Vina Jakob is not currently set up for tastings. Instead, look for a bottle at a Zagreb wine shop or restaurant, and revel in being in the thriving center of Croatia's wine culture.
To visit wineries mentioned in this article, consult our Winery Finder Tool, in the sidebar of the Cheers Croatia Magazine home page.
[Title photo: Jadranka wine bar and bistro. Staff/CCM.]